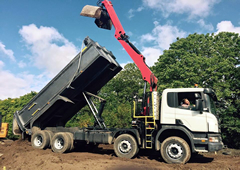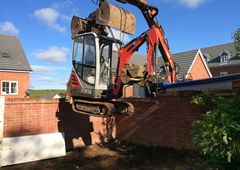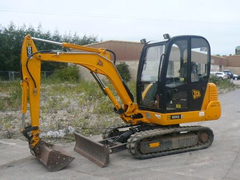 With our fleet of grab lorries and grab trucks RBM Haulage makes the removal and disposal of waste materials quick and easy. Our grab lorries have a 7.5 metre reach from the side of the vehicle (the maximum reach available on a grab lorry). We are able to work over fences and walls; around trees and lamp posts thus making almost everywhere accessible. This exceptional accessibility and manoeuvrability is especially beneficial on sites where space is restricted.
Increasingly strict legislation governs the disposal of waste materials in the UK and non-compliance can result in heavy penalties and large fines. As registered waste carriers with the Environment Agency and we take our responsibilities very seriously. You can trust us to collect and dispose of your waste in an appropriate and environmentally friendly manner, in full compliance with the latest regulations.
We provide grab hire and muck-away services for site clearance, demolition, construction and landscaping projects throughout South Wales and the West. Our vehicles and operators are also available for long term utility contract hire.
We collect and dispose of all non-toxic waste materials including:
Demolition & Site Clearance
We also provide demolition and site-clearance services. So no matter what the scope of your project we can remove risk, plus save you time and money clearing and disposing of your waste.
Call 07870 625068 / 01291 641145 or e-mail 'info@rbmgrabhire.co.uk' for more information or a free quote.